You Make Me Feel Like Dancing
is the 3rd Wiggles album that featured Sam Moran as the yellow wiggle. It was released on the 8th of May, 2008.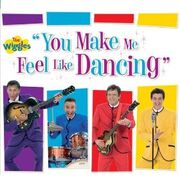 Tracklisting
Edit
Introduction
You Make Me Feel Like Dancing
Dr. Knickerbocker
A Sailor Went To Sea / Hornpipe
Old Dan Tucker
One Finger, One Thumb
The Shimmie Shake
Two Little Dickie Birds
The Turkey In The Straw
The Mooche
The Fairy Dance
I Drive The Big Red Car
(Are You Ready?) To Do The Bus Stop
Tales Of The Vienna Woods
Day-O (AKA The Banana Boat Song)
La Bamba
Country Garden
The Story Of Thomas The Turkey
Swedish Rhapsody
Ad blocker interference detected!
Wikia is a free-to-use site that makes money from advertising. We have a modified experience for viewers using ad blockers

Wikia is not accessible if you've made further modifications. Remove the custom ad blocker rule(s) and the page will load as expected.