'Ukulele Baby'
is a Wiggles album that was released on the 3rd of February, 2011 in Australia. On the American version it features Al Roker and in the Australian version it features Daryl Somers. They both also feature Rolf Harris.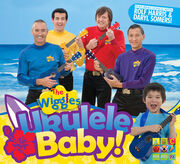 Tracklisting
Edit
When I Strum My Ukulele
How Many Fingers Do I See?
Hula, Hula Baby
Henrys Spinning
You Can Play The Ukulele
I'm Waving To You
Cluck, Cluck City
The Goodship Fabulous Flea (Feat. Rolf Harris)
How Many You Want?
Hawaiian Boogie
Ooki, Ooki, Ooki, Hear That Bouzuki
Hey Hey, It's Saturday (Feat. Daryl Somers) / Thank You Mr. Weatherman (Feat. Al Roker)
Spagnola (Instrumental)
My Curly Sue Doll
Round And Round, Round And Round
Bambino (Instrumental)
Everybody Loves A Puppy!
Doo, Doo-Doo, Doo!
La Paloma
When I'm Painting
How Many Fingers Do I See? (Instrumental)
Toy Box
Il Clan Dei Siciliani (Instrumental)
Ad blocker interference detected!
Wikia is a free-to-use site that makes money from advertising. We have a modified experience for viewers using ad blockers

Wikia is not accessible if you've made further modifications. Remove the custom ad blocker rule(s) and the page will load as expected.