The Wiggles TV Series 2
is the second TV series created by The Wiggles.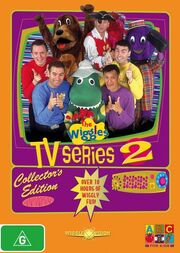 A collection of all the episodes was released on DVD in 2007.
Wiggle Food
Numbers And Counting
Dancing
Dressing Up
Your Body
Play
Safety
Story Telling
Friends
Multicultural
Music And Musical Instruments
Hygiene
Animals
History
Family
Movement
Nutrition
Directions
Manners
Travel
Play
The Body
Communication
Work
Imagination
Cows And Ducks
Ad blocker interference detected!
Wikia is a free-to-use site that makes money from advertising. We have a modified experience for viewers using ad blockers

Wikia is not accessible if you've made further modifications. Remove the custom ad blocker rule(s) and the page will load as expected.