Sing A Song Of Wiggles is
the second of two Wiggles nursery rhyme albums. It was released on the 7th of August, 2008.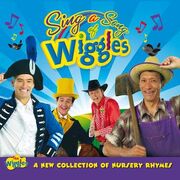 Tracklisting
Edit
Introduction
Old MacDonald On A Farm
Sing A Song Of Sixpence
Over In The Meadow
Mary, Mary, Quite Contrary
Rub-A-Dub-Dub
She'll Be Coming 'Round The Mountains
Old King Cole (Fiddlers)
Humpty Dumpty
Black Velvet Band
Jack Be Nimble
One, Two, Buckle My Shoe
Old King Cole (Guitarists)
Rock-A-Bye Baby
This Little Piggy
I'm A Little Teapot
Jack Be Slow
Baa Baa Black Sheep
Poly Put The Kettle On
Old King Cole (Trumpeters)
Ride A Cock-Horse To Banbury Cross
One, Two, Three, Four, Five
Hot Cross Buns
Jill Be Nimble
It's Raining, It's Pouring
Old Mother Hubbard
What Are Little Boys Made Of?
What Are Little Girls Made Of?
The Boll Weevil Song
Jill Be Slow
Boys And Girls Come Out To Play
Hush Little Baby
Nursery Rhymes Medley
Ad blocker interference detected!
Wikia is a free-to-use site that makes money from advertising. We have a modified experience for viewers using ad blockers

Wikia is not accessible if you've made further modifications. Remove the custom ad blocker rule(s) and the page will load as expected.