Hot Poppin' Popcorn
is a Wiggles album which was released on the 6th of August, 2009. It features Jamie Redfern as a special guest.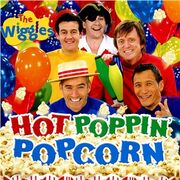 Tracklisting
Edit
It's A Wiggly Circus
Hot Poppin' Popcorn (Feat. Jamie Redfern)
How Are We Going To Wake Up Jeff?
Circus Cyclists Circling!
Dorothy's Dance
Doing A Handstand!
Juggling, Juggling, Juggling Balls
The Ringmaster's Song
Waltzing Matilda
Murray's Guitar Saved The World
High Up On The Trapeze
Henry's Song
Captain Feathersword's The Somersault King
Anthony's Eating Again
Fly, Fly Foodman
Wave Your Ribbons In The Air
Wags The Balancing Dog
We're Watching The Clowns Fall Down
Hot Poppin' Popcorn (Karaoke Version)
Ad blocker interference detected!
Wikia is a free-to-use site that makes money from advertising. We have a modified experience for viewers using ad blockers

Wikia is not accessible if you've made further modifications. Remove the custom ad blocker rule(s) and the page will load as expected.