Go Bananas!
is a Wiggles album which was released on the 5th of February, 2009. It featured special guest vocalists Kylie Minogue, Morgan Crowley and John Waters. 100% of the donations of royalties of Monkey Man went to UNICEF Australia.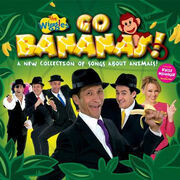 Tracklisting
Edit
Introduction
Monkey Man (Feat. Kylie Minogue)
The Chicken Walk
Kangaroo Jumping
Bless You, Bless You, Bonnie Bee
The Unicorn (Feat. Morgan Crowley)
The Monkey, The Bird And The Bear
Little Robin Redbreast
The Dingle Puck Goat
One Monkey Who
Wags The Dog Is Chasing His Tail
Cock-A-Doodle-Doo
The Lion Is King
Rusty The Cowboy (Feat. John Waters)
Sing, Sing!
The Poor King
Here Comes A Camel
Dickory, Dickory, Dare
Frankie The Blue-Eyed Koala
I'm A Scary Tiger
Hodley Podley
Standing Like A Statue
Kangaroo, Kangaroo, What Do You See?
Tassie Devil
Once I Saw A Little Bird
Hippo, Hippo!
Ad blocker interference detected!
Wikia is a free-to-use site that makes money from advertising. We have a modified experience for viewers using ad blockers

Wikia is not accessible if you've made further modifications. Remove the custom ad blocker rule(s) and the page will load as expected.