Getting Strong
is the name of the first studio album that was released with Sam Moran as the yellow wiggle. It was released on the 3rd of May, 2007.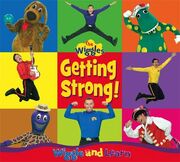 Tracklisting
Edit
Health & Physical Development:
Wiggle And Learn
Hello, We're The Wiggles
To Have A Tea Party
Let's Take Turns Skipping Rope
Follow The Leader
Swinging On A Swing
When The Music Stops, Everybody Hop
When The Music Stops, Everybody Skip
When The Music Stops, Everybody Jump
The Five Sense
Fingers Standing Very Tall
Hands On Your Ears
A Bird Flew Around On A Bright Sunny Day
Smell Your Way Through The Day
The Sporting Salsa
Getting Strong
Goodbye From The Wiggles
Dorothy's Introduction
Language & Numeracy
Hello, We're The Wiggles
A Frog Went A Walking
The Biggest Smile Of All
D Is For Dorothy
Konnichi Wa Everybody
Ciao Everybody
Hola Everybody
Yiasou Everybody
I Spy
This One Is Different
One, Two, Three, Four Rhymes
First In Line
Beach, Beach, Sandy Beach
We're All Friends
Goodbye From The Wiggles
Ad blocker interference detected!
Wikia is a free-to-use site that makes money from advertising. We have a modified experience for viewers using ad blockers

Wikia is not accessible if you've made further modifications. Remove the custom ad blocker rule(s) and the page will load as expected.