Dorothy The Dinosaur TV Series 3
is the third Dorothy The Dinosaur TV series. A DVD was released in 2012 of a collection of all the episodes titled Dorothy The Dinosaur's Wonderful World!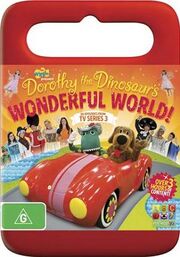 Rosy Tea With Fairy Maria!
Bunny Rabbits!
Shoe Shop Shine!
Dorothy's Indian Gift
Fairy Clare Goes To Ireland
Walking WIth WWags
Egyptian Papyrus!
New Zealand Adventure!
Dorothy Goes To The Grocer
Dorothy And Lucia In Italy
England Swings!
Floral Fun!
Elf Antonio Goes To Greece
Dorothy And The Didgeridoo
Yummy Canada Syrup
Spain Is Great!
Vive La France!
Fairy Clare's Ice Cream
Dorothy Loves Hawaii
Koala Time!
Dorothy Goes To The Florist
Burgers In The USA!
Sunny South Africa
Pretty Peru
Elf Antonio At The Toy Shop
Sensational Scotland
Ad blocker interference detected!
Wikia is a free-to-use site that makes money from advertising. We have a modified experience for viewers using ad blockers

Wikia is not accessible if you've made further modifications. Remove the custom ad blocker rule(s) and the page will load as expected.