Dorothy The Dinosaur Meets Santa Claus
is the third Dorothy The Dinosaur solo album and the first Christmas one. It was released on the 1st of October, 2009.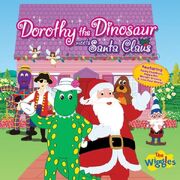 Tracklisting
Edit
When Santa Meets Dorothy The Dinosaur
Tell Us A Story, Captain Feathersword
Riding On Santa's Sleigh
Dorothy Through History
A Miracle In A Manger (Feat. John Paul Young) (Bonus Track)
Introduction
Waltz With Me
Introduction
Toys! Toys! Toys!
Introduction
Dorothy's On Santa's Sleigh (Feat. Kasey Chambers & Poppa Bill) (Bonus Track)
Waltz With Me (Count One, Two, Three)
Wags' Christmas Bone (Bonus Track)
Go, Go, Go (When We Push Go)
How I Love Rosy Petals
How I Love Rosy Petals (Rock 'N' Roll)
Santa's Big Brass Band (Bonus Track)
It's Christmas
Introduction
Christmas Like It's Always Been
Riding On Santa's Sleigh (Reprise)
Groovy, Groovy Wags
Dorothy And Santa's Finale
The Wonder Of Christmas (Through The Eyes Of A Child) (Bonus Track)
Ad blocker interference detected!
Wikia is a free-to-use site that makes money from advertising. We have a modified experience for viewers using ad blockers

Wikia is not accessible if you've made further modifications. Remove the custom ad blocker rule(s) and the page will load as expected.