Dorothy The Dinosaur's Travelling Show
is the fifth Dorothy The Dinosaur solo album. It was released on the 14th of January, 2011.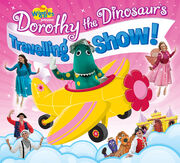 Tracklisting
Edit
Introduction By Dorothy & John The Cook
Incy Wincy Spider
Introduction By Fairy Clare
Everyone Can Be A Fairy!
I'm Dorothy The Dinosaur! (Travelling Show)
Dorothy, Pick Roses With Me
Introduction By Dorothy & Fairy Clare
Wags Loves To Shake Shake
The Shimmie Shake!
Introduction By John The Cook
I'm A Little Teapot
Introduction By Captain Feathersword
Clap Your Hands With Dorothy
Introduction By Dorothy & Fairy Clare
Fly Through The Sky
Captain's Joke! (Introduction)
Henry's Song
Dorothy Finds The Rose In Japan (Introduction)
Haru Ga Kita
Brown Dog In The Ring
Captain's Pirate School (Introduction)
Nicky Nacky Nocky Noo
Quack Quack
Follow The Leader
We're All Friends
Hot Potato
Dorothy & Fairy Clare's Dancing (Introduction)
The Fairy Dance
Ad blocker interference detected!
Wikia is a free-to-use site that makes money from advertising. We have a modified experience for viewers using ad blockers

Wikia is not accessible if you've made further modifications. Remove the custom ad blocker rule(s) and the page will load as expected.