'Big Birthday' was released in mid 2011 to celebrate 20 years of The Wiggles! It features live tracks, jokes and songs with special guests, Al Roker, Troy Cassar-Daley and Kathy Gothadjaka.
It was released on the 2nd of June, 2011 in Australia,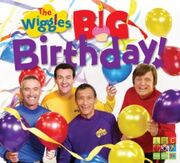 7th of July, 2011 in America and 18th of August, 2011 in the UK.
Tracklisting
Edit
Big Birthday Introduction
Toot Toot, Chugga Chugga, Big Red Car (Live)
Al Roker's Introduction
Thank You, Mr. Weatherman (Feat. Al Roker)
Wiggly Joke Time With Captain Feathersword
Rock-A-Bye Your Bear (Live)
Quack Quack (Live)
Ballerina, Ballerina (Live)
Wake Up Jeff! (Live)
Teddy Bear, Teddy Bear, Turn Around (Live)
I Love It When It Rains (Feat. Troy Cassar-Daley)
Jack And Jill (Live)
Wiggly Joke Time With Murray
Fly Through The Sky (Live)
Wags' Introduction
Fruit Salad (Live)
Twinkle, Twinkle, Little Star (Live)
Warramiri Language Introduction
Ngalmam Djangu Godku Yumarrku (We Are All In God's Family) (Feat. Kathy Gothadjaka)
Five Little Joeys (Live)
The Shimmie Shake (Live)
Wiggly Joke Time With Dorothy
Follow The Leader (Live)
Romp Bomp A Stomp (Live)
Shaky Shaky (Live)
Murray's Guitar Saved The World (Live)
Dorothy's Introduction
Dr. Knickerbocker (Live)
Wiggly Joke Time With Captain Feathersword
It's A Wiggly Circus (Live)
Murray's Introduction
Hot Potato (Live)
Goodbye Message From The Wiggles
Ad blocker interference detected!
Wikia is a free-to-use site that makes money from advertising. We have a modified experience for viewers using ad blockers

Wikia is not accessible if you've made further modifications. Remove the custom ad blocker rule(s) and the page will load as expected.